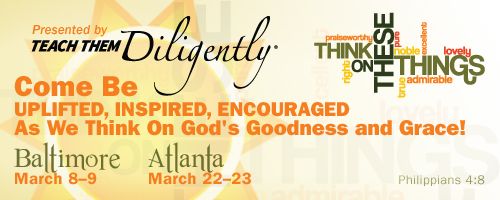 We All Need Refreshment
In a typical day our thoughts can wander all over the map. Lesson plans, chores, e-mails, errands, doctor appointments, menus, and other everyday items on our to-do lists. Then there are the spiritual issues, doubts, condemnations, frustrations, bitterness, anger, discontentment, envy, pride, and selfishness that wrestle at the edge of consciousness, demanding our attention. They work to deceive and distract us, battling to sap our focus, our energy, and our devotion.
But our God is so good! Scripture teaches us to "take captive every thought" (2 Corinthians 10:5). Our Father knows our minds will race and our thoughts can quickly get out of control. He knew before time we would need to "stand firm" and "be strong" (1 Corinthians 16:13), and in His grace He actively encourages us through His Word. Then He gives us a list of things to think on, things to meditate on, things to pursue so we will know peace.
In Philippians 4, the apostle Paul exhorts us to choose joy regardless of our circumstances, and then he provides a checklist for us to measure our thoughts by: "Whatever is true, whatever is noble, whatever is right, whatever is pure, whatever is lovely, whatever is admirable—if anything is excellent or praiseworthy—think about such things" (Philippians 4:8)
This year at Real Refreshment Retreats we will focus on thinking on these things. We are going to look at each of these qualities, define them, and consider what it means to think about them. God is faithful to speak to each of us through His Word, and we trust that He will reveal Himself to you through His Word at one of our retreats.
Pre-Retreat Nuts and Bolts Sessions
This year come early on Friday to enjoy our pre-Retreat Nuts and Bolts sessions. Hear uplifting and encouraging information centered on homeschooling, parenting, discipleship, and more. Tickets to these four additional sessions are just $25.
Here is the schedule for Baltimore and Atlanta in March 2013:
Friday
Nuts and Bolts – Tickets to Nuts and Bolts Are Just $25
9 am Registration Open and Resource Tables Open
9:30 am Workshop 1 – All – How Children Learn – Debra Bell
10:30 am Break
10:45 am Mini-Workshop A
Quite Time In A Loud House - Rachael Carman
Too many moms feels guilt if they can't fit in a daily quiet time with God. Yet with the many
demands of motherhood (you know, laundry, nursing babies, dishes, food prep, misbehaving
toddlers, and don't forget some actual homeschooling) when is this supposed to happen? And
when you finally figure out a routine that could have a chance of working, there is the frustration
of being interrupted by loud noises, which can include the cries of young children. Rachael has
first-hand experience in this arena raising seven growing children at home. Come get some
practical ideas to help you find that all-important quiet time with God.

Tailor Made: How To Give Your Child An Education That Fits – Zan Tyler
Study Smart Student Strategies – Debra Bell
11:15 am Break
11:30 am Mini-Workshop B
Incorporating Character In Everything - Rachael Carman
Why Motivation Matters – Debra Bell
Why Being A Mom Matters – Seeing the Beauty in the Everyday – Rachel Martin
12:00 pm Break
12:30 pm Lunch (included with N&B registration fee)
1:30 pm Workshop 2 – All - I'm Not Perfect and Neither Are My Kids – Rachael Carman
(This workshop will be given by Rachael and her daughter or son)
Our family is much like yours and many others. We have struggles, communication issues,
conflicts, joyful moments, and areas where we can improve. But it never helps to compare yourself
to anybody else. As a matter of fact, nobody wins the comparison game. In this workshop, Rachael
and her sixteen-year-old daughter, Savannah Anne, share some mother-daughter stories and
wisdom from their homeschooling journey with candor and humor. The goal is to help you stay in
the homeschooling game, even if the struggles seem too difficult at times.
2:30 pm Break – Booth open
Retreat - Included in the Retreat Ticket
2:30 pm Registration opens
4:30 pm Dinner (separtely ticketed event, or own your own)
5:30 pm Welcome and Kick-off
5:45 pm Icebreakers
6:15 pm Praise and Worship – Anne MacCallum
6:30 pm Session # 1 – Philippians: Context, Context, Context – Rachael Carman
Before we get to the crux of our theme verse-Philippians 4.8-we must understand the basics behind the book and its author. Paul writes this book from prison with clear focus and admonitions for his readers. He implores us to 'live as Christ', to 'do nothing out of selfish ambition', and 'to do all

things

without grumbling or complaining'. Throughout the book he encourages us to 'rejoice'. Our guiding verse is found in the last chapter, and it holds the secret to all that Paul has proposed-right thinking. Let's dare to lean in deeper and engage our minds so that we can learn what it means to 'think on

these

things

' and gain the 'peace that passes all understanding' as we 'learn to be content in all circumstances'.
7:30 pm Break
8:00 pm Prayer Session # 1 – Elizabeth Smith
8:45 pm Family Intro
9:00 pm Praise and Worship – Anne MacCallum
9:15 pm Fellowship and Resource Tables Open
10:00 pm Close
Saturday
8:00 am Breakfast on your own
8:45 am Praise and Worship – Anne MacCallum
9:00 am Session # 2 – Thinking On Our Relationships with Other Women – Debra Bell
They're not the competition! Friendships with other women are meant to be a significant source of support, comfort and grace. But, our own thinking and the enemy of our soul can cut off or pervert this wonderful gift from God. Are we missing God's eternal intentions in the relationships that surround us? Or letting the comparison trap undermine our friendships? If we are willing to lock arms and share the joys and burdens of marriage, motherhood and homeschooling together, God will open up new rivers of grace in each of our lives.
10:00 am Break
10:30 am Session # 3 – Finding the Rose in the Desert – Thinking on Loveliness – Zan Tyler
"I just can't face homeschooling today" my friend confided. "I'd rather have a root canal!" We have all been there. The disciples have been there, too. We know because they asked Jesus, "Where could we get enough bread in this desolate place to fill such a crowd?" Just like He did for the disciples, Jesus miraculously transforms the desolate places in our lives to lush gardens of ministry. But how? Today we will think on—fix our minds upon—inspirational, creative (and fun) ways to inject delight and loveliness into those dry, dreary days of homeschooling. We will find the rose in the desert!
11:30 am Praise and Worship – Anne MacCallum
11:45 am Fellowship and check out time
12:00 pm Lunch for Everyone (included in the ticket price)
1:00 pm Praise and Worship – Ane MacCallum
1:15 pm Session # 4 – How Should I Think about Excellence? Seeing the Exceptional in the
Everyday, the Phenomenal in the Nominal – Sherri Seligson
2:15 pm Break
2:45 pm Prayer Session # 2 – Elizabeth Smith
3:30 pm Session # 5 – Thinking on Biblical Discernment in an Unbiblical Age – Heidi St. John
Our grandmothers were bombarded with Christian values in a world firmly grounded on faith and family. Our mothers were a part of a cultural revolution in which faith became laughable and families were disassembled on a wholesale basis. And now we find ourselves awash in a world gone berserk where what is good is called evil and what is wicked is called good. Learn why nurturing Biblical Discernment is an essential lifeskill for any woman hoping to navigate the treacherous cultural waters of the 21st century.
4:30 pm Praise and Worship – Anne MacCallum
4:45 pm Closing Session
5:00 pm Fellowship and Resource Tables Open