"Thank you for spiritually ministering to us this weekend. Thank you for your hearts, your homeschooling stories, and your love for God."
Retreat Attendee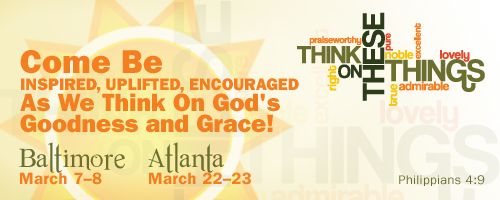 Details for the Baltimore location are as follows:
When
We will be in Baltimore, MD March 8-9, 2013
Where
The retreat will be at the Westin BWI which is located at 1110 Old Elkridge Landing Road, Linthicum, MD 21090.
The room block rate is $125.00, and the block is open until February 11, 2013. You can call 443-577-2300 to make your reservations!
Registration Options
$115 regular registration fee – this includes the retreat from Friday at 5 pm to Saturday at 4 pm and Saturday lunch
$80 previous attendee discount – this is a discounted rate for our returning attendees. If you are a returning attendee you can share your discount with friends. They just need to put your name (the previous attendee) in the 'special needs' box.
$25 Nuts and Bolts (includes lunch on Friday) – our how to practicum for homeschool moms.
$25 Friday Night Dinner – a near by dinner option! Join us for dinner!
Registration
And register for the retreat here.