What happens when you bring 12 Apologia speakers and authors together with 12 homeschooling bloggers and toss in 12 giveaways?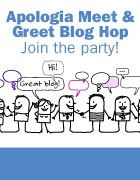 It's the Apologia Meet & Greet Blog Hop!
Twelve homeschooling veterans, including Davis and Rachael Carman, Zan Tyler, Clay and Sally Clarkson, Debra Bell, Jeannie Fulbright, David Webb, Elizabeth Smith, Sherri Seligson, Larry Blythe, and Sarah Clarkson, chatted with 12 homeschool moms via their blogs.
Each blogger had the opportunity to ask their questions of an author/speaker. They have turned their interview into a blog post, and their links are listed below.
Plus, each mom is hosting a giveaway on her blog. Yes! There are 12 giveaways total this week. You can enter each giveaway.
Note: You must be a 18 years or older to enter, U.S. residents only for all giveaways.
After you've read each interview, click around the blog and enjoy the other homeschooling ideas and inspiration shared by these fellow homeschoolers. They share their triumphs, trials, and heart for God, family, and homeschooling. We know you'll find their blogs uplifting and encouraging.
Let's meet and greet 12 homeschooing veterans, authors, and speakers . . .
Davis Carman, President and Owner of Apologia Educational Ministries, Inc., chats with Cheryl at SomewhatCrunchy.
Rachael Carman, Apologia author and speaker, wife to Davis Carman, chats with Heather at Sprittibee.
Debra Bell, author of the Ultimate Guides to Homeschooling series and the Ultimate Homeschool Planner chats with Toni at TheHappyHousewife.
Larry Blythe, Director of the Apologia Academy, and apologetics speaker chats with Karen Knapp at FaithFamilyFibro.com
Sally Clarkson, speaker and author, chats with Sue and Meghan at the The Hip Homeschool Moms.
Clay Clarkson, author of Educating the WholeHearted Child chats with Amber at ClassicHousewife.com
Sarah Clarkson, author of Read for the Heart chats with TheHomeschoolVillage.
Jeannie Fulbright, author of the popular Young Explorers science curriculum chats with Erin at HomeWithTheBoys.net.
Elizabeth Smith, Apologia Live speaker, chats with Jenn at DazeofAdventure.com.
Sherri Seligson chats with Betty at PeaceCreekonthePrairie.
Zan Tyler, Apologia author and speaker, chats with with Cheryl and the 2:1 Conference.
David Webb, a co-author of the What We Believe series and a homeschooling father, chats with Rebecca at MomsMustardSeeds.com.