Drumroll please . . .
We are ready to announce the winners from the Facebook Dinnery Party giveaways!
First, we'd like to thank Family Time Fitness and The Old Schoolhouse© Magazine for their generous donations. Check out their respective web sites and products.
If your name is below, and you have not heard from us, please email your name, address, and phone number to entry@apologia.com.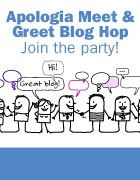 Did you know we have 12 more giveaways going on this week? We sure do!
Visit the Apologia Meet and Greet Blog Hop for the details. We're giving away science books, Notebooking Journals, an Apologia Lab Coat, a ticket to an Apologia Live retreat for homeschool moms, and much more.
Visit each blog, meet a veteran homeschooling parent and Apologia author/speaker. Get to know Davis and Rachael Carman, Clay and Sally Clarkson, David Webb from the What We Believe series, Zan Tyler, Jeannie Fulbright, and more!
Read the details here, hop around the blogs, mingle, and enter all 12 giveaways!
Winner 1 of the Apologia Live CDs is Anne (Response:My challenge has always been balancing a home business and home educating three children.)
Winner 2 of the Apologia Live CDs is Joscelyne Hilton
Winner of Educating the WholeHearted Child is Lydia Hostetler
Winner 1 of the Family Time Fitness curriculum is Tina (Response: It's been a long time since I truly relaxed, but I enjoy reading, playing games, and water sports!)
Winner 2 of the Family Time Fitness curriculum is Megan McCarty
(Fitness 4 Homeschool Physical Education Curriculum from Family Time Fitness!)
Winner of the digital subscription to The Old Schoolhouse Magazine is Amy R. (Response: We'll be visiting the zoo, a few museums and a farm. We may take tours at some manufacturing plants, but will probably hold that off for another year.)
Winner of the Mrs. Fields cookies is Jessica at 4momsonly.blogspot.com
Winner of the Ultimate Homeschool Planner by Debra Bell is Lynn McInnis http://homeschoolblogger.com/tdhgp/
Winner of The Ultimate Guide for Homeschooling Teens by Debra Bell is Candie at http://www.dandieconner.blogspot.com/
Winner of 7 Tools for Cultivating Your Child's Potential is Christina S.
Winner of the $15 Starbucks card is MichelleTaylor
Winner of the $35 e-gift card for pizza is Jennifer at http://glimpseofourlife.blogspot.com/.
Winner of How To Have a H.E.A.R.T. For Your Kids by Rachael Carman is: Cora http://sdpastorshome.blogspot.com/
Winner of Soundbites From Heaven by Rachael Carman is: Kathy Balman http://www.kathysclutteredmind.com
Thank you for joining in the back-to-homeschool fun! Don't forget to sign up for our e-newsletter to informed about our product releases, events, and other fun happenings. Plus, when you sign up for the e-newsletter, you gain access to free webinars, articles, and more! Click here to subscribe.