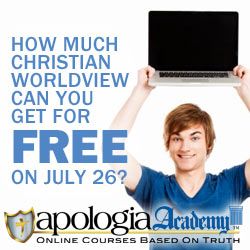 The entire family is invited to join us for an evening of worldview with Larry Blythe, apologist, speaker, and Director of the Apologia Academy. Larry will present two of his most popular seminars on Thursday, July 26, in a live webcast.
Each webinar will have 100 seats available with FREE admission!
Schedule:
7:00 to 8:00: "How to Homeschool Your Children to be Mighty Defenders of the Faith" and "3 out of 4 Youth Leave the Faith After High School: Keeping Your Faith in College & Beyond"
8:00-8:30: Break
8:30 to 9:30: Last 15 minutes of the sessions and 45 minute Q and A
Registration information and the webinar schedule are below. Registration instructions and the schedule can be downloaded here.
About Larry Blythe
Larry Blythe is the Director of Apologia Academy. Larry earned his M.A.A. (Master of Arts in Apologetics) from Southern Evangelical Seminary in Charlotte, NC in 2002. In 2003 he accepted a call from the president of the Seminary to assist in starting Southern Evangelical Church, also located in Charlotte, Larry served 3 ½ years as the Assistant Pastor of Christian Education.
Larry has been a regular guest speaker at the National Christian Apologetics Conference, and the Spiritual Counterfeits Conference. He was an instructor of World Religions and New Religious Movements, and Church History at Southern Evangelical Bible College. He was the Founder/Director of the Lay Institute for Biblical Studies and taught on various topics including cults, apologetics, theology, OT/NT, and social disciplines. He is one of the editors of the Baker Encyclopedia of Christian Apologetics.
He teaches seminars on a variety of topics at various venues. In addition to teaching subjects related to World Religions, Cults, and general apologetics (defending the historical Christian faith), Larry's seminar topics include I Don't Have Enough Faith to be An Atheist, Are the New Testament Accounts True, Do All Religions Lead to God, How To Answer a Skeptic, 10 Things Teens Can Do To Change The World, How to Refute Non-Christian Claims, and many more. For approximately 2 ½ years Larry was a regular guest on the weekly radio program The Voice of Truth.
When he is not directing Apologia Academy, Larry enjoys racquetball (sponsored by Wilson Sporting Goods), visiting Disney World, performing Christian Illusions & Juggling, chatting with his grown children – Kortney (now in the presence of Christ Jesus), Ashley, and Jeff, and dating his wife Jane. Larry and Jane, live in Charlotte, NC.
How to register for the two free worldview webinars with Larry Blythe:
1. Open, download, or save this How-To PDF. You'll find instructions and the full schedule for the webinars.
2. Or you can go immediately to registration by clicking here.
3. Watch your email for confirmation and reminder emails. PLUS, mark your calendar, put a Post-It on your refrigerator or set a reminder on your cell phone!
4. On the evening of July 26, click the webinar link in your confirmation emails.
Important Reminders:
1. There are only 100 seats available. Even if you register, you need to be one of the first 100 into the webinar on July 26.
2. Check out the schedule below. We will start early with some giveaways.
This is an event for the family!
Schedule: (All times are eastern time zone)
6:50 p.m. Early bird giveaways, introductions, and prayer
7:00 p.m.-8:00 p.m. Session 1 and Q & A time. Session topic: "How to Homeschool Your Children to be Mighty Defenders of the Faith"
8:00 p.m.-8:20 p.m. Break time with chat box open for fellowship
8:20 p.m.-8:30 p.m. Giveaways
8:30 p.m.-9:30 p.m. Session 2 and Q & A. Session topic: "3 out of 4 Youth Leave the Faith After High School: Keeping Your Faith in College & Beyond"
Again, click here to register and view the registration instructions and schedule here.
See you on July 26 starting at 6:50 p.m. eastern for some early bird giveaways before the first webinar begins at 7:00!